I am participating in my first ever Bead Soup Blog Party and I am loving it!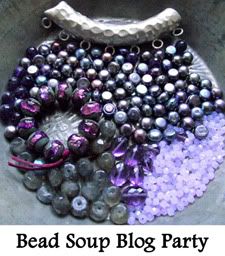 My partner's name is Kari and she has a lovely
blog
 called Pearl and Pebble, where she documents her creative life. She even makes her own beads from scratch! Please stop by and check out her art. You will also be delighted by pictures of two little baby boys who are simply adorable.
Kari send me a wonderful bead soup that I can hardly wait to play with. The ceramic centerpiece is by Muddy Fingers on Etsy. There are also salway nuts, ocean jasper, white fossil stone and a gorgeous sterling clasp. She is so cute, she wrote me a little bead soup recipe in the box.
Stay tuned and before too long the actual blog party starts and all of us will be posing our creations.